Product Description
The SS1310 SPELL BOUND® full face motorcycle helmet from Speed and Strength® is lined with a removable, washable Cool-Core® moisture wicking liner and built with an A.T.P.A.™ advanced thermo-poly alloy shell. The helmet offers a double 'D' D-ring retention system and an Air Strike™ direct course ventilation system for proper airflow circulation.

The helmet offers a Lock 'N Load™ rapid conversion shield replacement system and Lockdown™ shield security lock system. Included is an All Clear!™ optically correct, anti-scratch, anti-fog and UV resistant face shield. Tinted shields are sold separately and are for daytime use only.
PRODUCT SPECS
A.T.P.A.™ Advanced Thermo-Poly Alloy Shell
Meets Or Exceeds DOT Standards
Removable, Washable And Moisture Wicking Liner
Air Strike™ Direct Course Ventilation System
Lock 'n Load™ Rapid Conversion Shield Replacement System
Lockdown™ Shield Security System
All Clear!™ Sight System Optically Correct, Anti-scratch, Anti-fog and UV Resistant Face Shield

Double 'D' D-Ring Retention System
SIZE CHART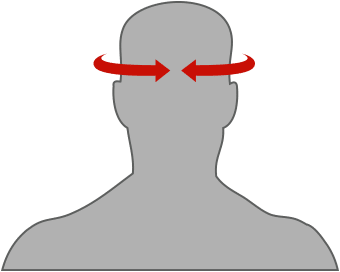 HOW TO MEASURE A PROPER HELMET
SIZING:To measure your head size, wrap a tape measure horizontally around your forehead. Select the helmet that is the closest fit to that size. A helmet should fit snug on your head. If it moves while wearing, it is too large. If it is painful to wear, it is too small. For proper sizing, your nearest dealer will be able to help you get sized up.
FITTING: Open the chin straps and slide the helmet onto your head starting at the forehead. A helmet should feel snug. If it slides on easily it is too big. It should feel tight to pull down. Make sure the inner padding fits snug all around. You should feel the padding pressing against your cheeks and head. The last check for a proper fit is to test if it moves while wearing, there should be no movement if you shake your head. Place your hands on the helmet and move it front to back and side-to-side. If there is a lot of movement, try a size down.
Helmet Size
XS
SM
MD
LG
XL
2XL
Head Measurement
20 7/8" - 21 1/4"
21 5/8" - 22"
22 1/2" - 22 7/8"
23 1/4" - 23 5/8"
24" - 24 3/8"
24 3/4" - 25 1/4"
*All measurements done in inches
Product Videos
Product Reviews